In April we launched the Payroll Efficiency Index, a first-of-its kind report that uses anonymized payroll processing data from more than 2,500 global entities to analyze process efficiency and set benchmarks for payroll performance at the global, regional, and country levels.
This unprecedented report went beyond traditional SLAs and output reports to introduce a new way of evaluating payroll performance. The PEI model relies on five key efficiency metrics that focus on the process itself. In addition to helping payroll professionals better understand how individual processing factors impact overall efficiency, the PEI report series enables payroll departments to identify bottlenecks, breakdowns, and opportunities for improvement that would otherwise be missed.
Here, we take a closer look at the final efficiency metric, the rate of Supplemental Impact, and what it can reveal about global payroll processing.
What It Is
Supplemental impact refers to the percentage of payroll runs that are completed as supplemental runs per payroll cycle. To calculate this metric, we take the total number of supplementary payroll runs processed in the payroll system and divide it by the total number of runs processed.
In 2018, the global average rate of supplemental impact was 19.6%. Perhaps unsurprisingly, countries in the Americas had the highest average rate of 39.4%, compared to 9.8% in EMEA and 9.5% in APAC. Brazil had the highest supplemental impact of all countries by far, at a rate of 80.5%, and four of the five highest country averages were in South America.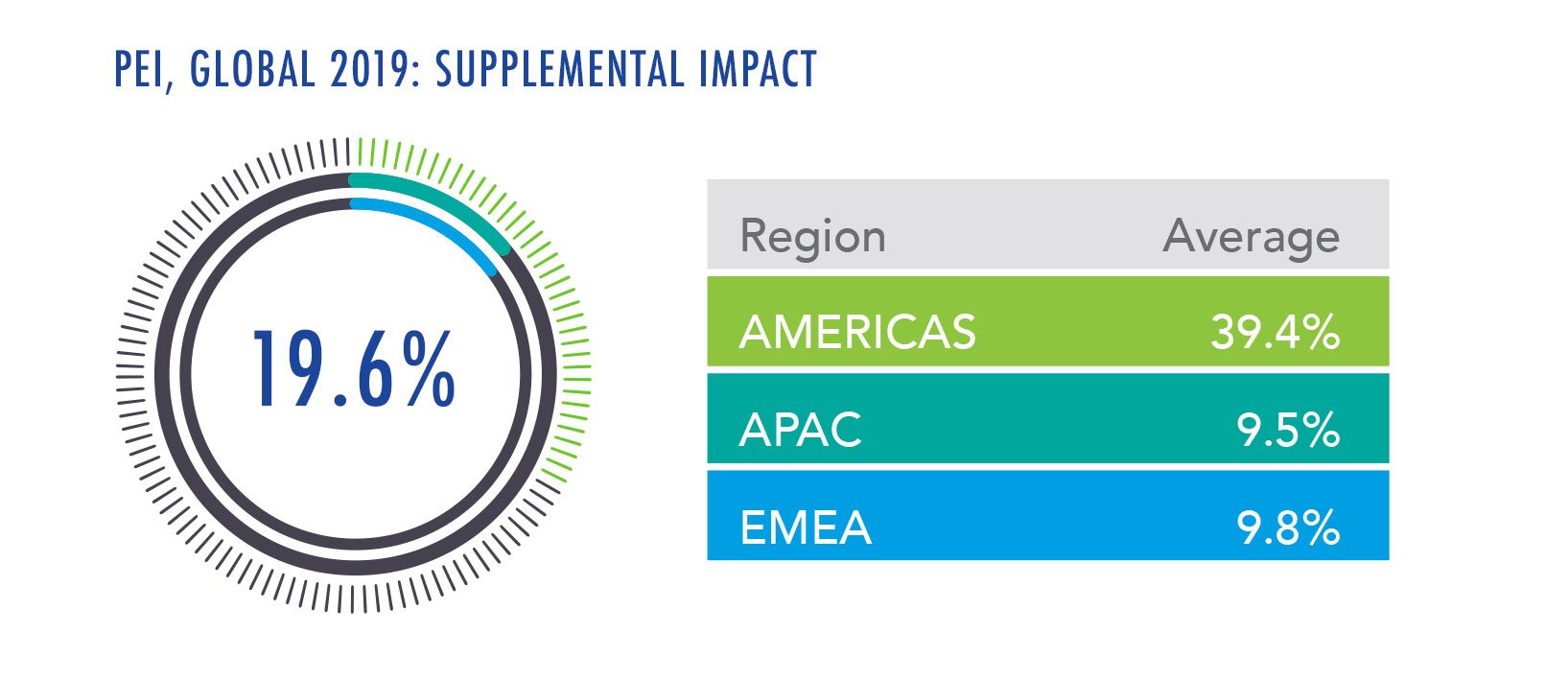 Why It's Important
Understanding the true cost of payroll remains one of the biggest challenges facing global payroll teams today. Payroll is typically one of the largest cost centers for multinational organizations, with companies allocating between 40% and 60% of total revenue to payroll operations. The ability to manage the volume of supplemental runs can go a long way to helping business leaders control those costs.
Part of the difficulty in managing payroll costs is due to the fact that payroll data can change at any time. Assessing the supplemental impact on overall payroll can help organizations quantify the financial implications of changes and corrections after payroll has been processed.
Some level of supplemental runs may be acceptable within an organization, but that doesn't mean they can't be avoided. As data quality and management improves, and as calendar windows decrease, the supplemental impact on a payroll should become easier to both predict and reduce. If you're not already aware of existing issues that could impact your supplemental impact rate, the other four KPIs used in the PEI report can help pinpoint the cause of the problem and identify possible solutions.
For Example: An energy company based in China with 2,500 employees across four countries saw that their supplemental impact hovered around 10% higher than the KPI average for similarly sized organizations. After seeing the financial savings that could be realized by bringing that KPI closer to the industry benchmark, stakeholders engaged in a comprehensive process analysis to improve the accuracy and efficiency of their payroll. The company identified multiple integration opportunities that would allow for more "complete" payroll runs and ensure greater data quality and consistency across functions.
How To Use It
If you're a CloudPay customer, you have access to this metric data directly in our Analytics tool, where you can view your own data and compare it against companies similar in size and location. Benchmarking data for all PEI payroll metrics is widely available in the Global 2019 Payroll Efficiency Index. If you're not a CloudPay customer but can calculate or even estimate your supplemental impact, you can compare that figure to the average in your countries and regions.
If your supplemental impact rate is high, work with your payroll team and global payroll provider to identify all possible factors and determine which ones are most affecting the accuracy of your payroll runs. While the many causes behind supplemental payroll runs can mean this key performance indicator takes longer than others to fully understand, it also means that most companies have multiple opportunities for reducing their supplemental impact.
For additional information about payroll benchmarking and country rankings, download the complete PEI report at payrollefficiencyindex.com.