In April we launched the Payroll Efficiency Index, a first-of-its kind report that leverages anonymized payroll processing data from the 2,500 global entities on the CloudPay platform to examine process efficiency and set benchmarks for payroll performance at the global, regional, and country levels.
Moving beyond the limited, traditional method of measuring payroll performance that is SLAs and output reports, the PEI relies on five key efficiency metrics that focus on the process itself. In addition to helping payroll functions and business owners better understand how individual processing factors impact overall efficiency, this new model enables teams to identify bottlenecks, breakdowns, and opportunities for improvement that would otherwise be missed.
Here, we take a closer look at the first efficiency metric, the rate of First-Time Approvals, and what it can reveal about global payroll processing.
What It Is
First-time approvals refers to the percentage of gross-to-net calculations that are approved by the payroll customer upon initial review. To calculate this percentage, we take the total number of payroll runs processed, less the total number of runs that came back with a customer rejection, divided by the total number of runs.
For the 2018 calendar year, the global average rate of first-time approvals was 74.30%. The Americas achieved a first-time approval rate of 81.89%. EMEA averaged 72.20%, and entities in APAC approved payrolls after one review 71.27% of the time.
---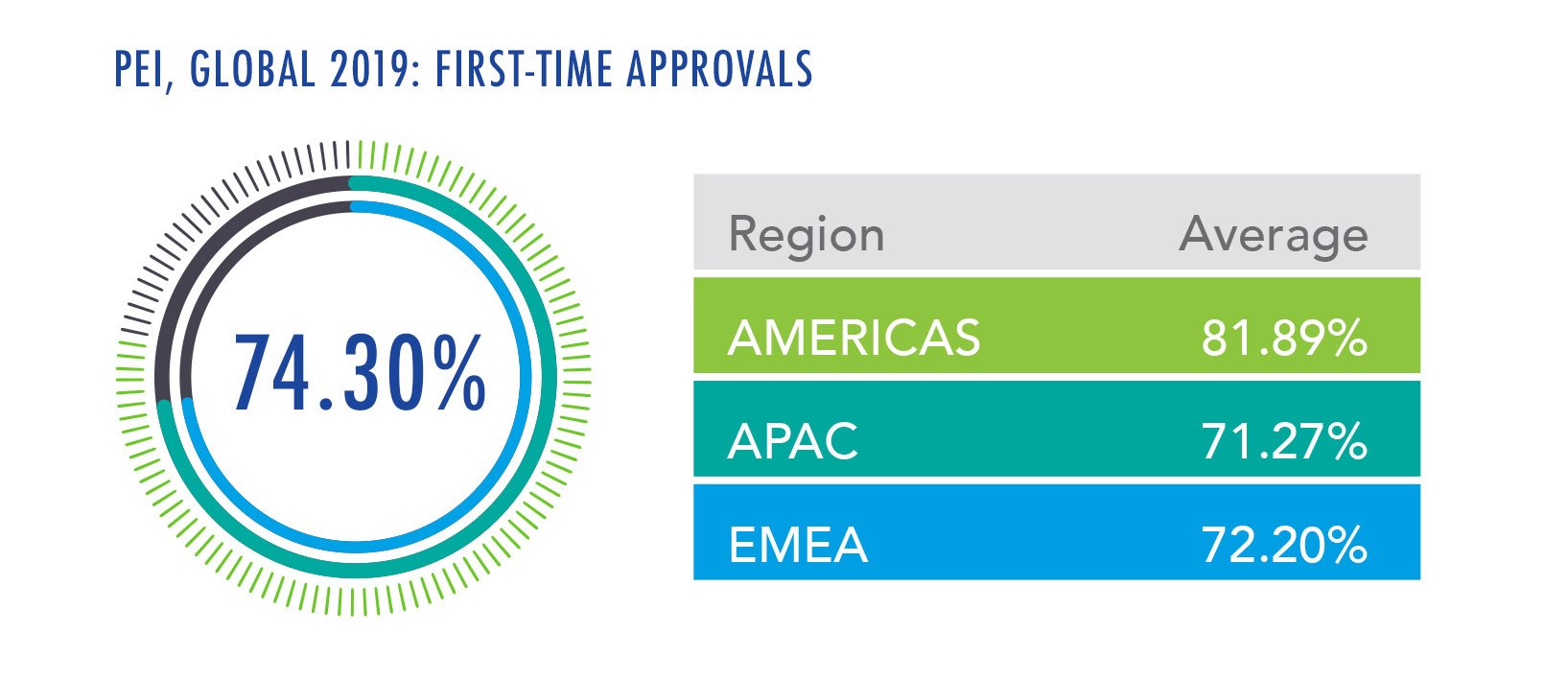 ---
Why It's Important
When it comes to analyzing the efficiency of your payroll services, the first-time approval rate is an excellent place to start. This metric gives instant insight into the accuracy of both your payroll data and processing. A high rate of first-time approvals signals an efficient payroll process using quality data and calculations. Whereas a low first-time approval rate is a clear indicator that your existing process is not working as it should.
A range of factors play into the overall rate of first-time approvals. If the data coming into your payroll system is inaccurate, incomplete, or late, the G2N will never be correct and approved the first time. Those data issues could be down to the input method, the quality of information coming to payroll from human resources, or an inefficiency further upstream.
If the data is correct, the trouble may be with the calculation engine, or with the approval workflow itself. If you're not already aware of existing issues that could impact your first-time approval rate, the other four KPIs used in the PEI report can help pinpoint the cause of the problem and identify possible solutions, whether in-house or with your payroll service provider.
For Example: A US-based company that processes approximately 10,000 payslips per month across six countries in the Americas and EMEA wanted to understand why the payroll cycle for two countries averaged three full days longer than the others. A low rate of first-time approvals in those countries helped uncover an issue with the accuracy of the data coming into the payroll system. The company devised a way to standardize input data and data entry methods across locations to help ensure those payroll teams received better quality information.
It's important to note how a low rate of first-time approvals can directly reduce the overall efficiency level of your payroll management. Each time a payroll is re-run with new or corrected data, it needs to be rechecked, using resources that would otherwise be applied elsewhere and simply slowing down the process every pay period. The rate of first-time approvals is such a valuable metric that one CloudPay customer, a major financial services company, requested a monthly review of their result. This company has set a global target of 80% first-time approvals, a goal they count on to guide their process improvement efforts going forward.
How To Use It
All CloudPay customers have access to the metric data directly in our Analytics tool, where they can view their own data and compare it against companies similar in size and location. This benchmarking data is widely available in the Global 2019 Payroll Efficiency Index. If you're not a CloudPay customer but can calculate or even estimate your rate of first-time approvals via your payroll software, you can compare that figure to the average in your countries and regions.
If your first-time approval rate is low, work with your payroll team and global payroll provider to identify all possible factors and how to determine which ones are impacting accuracy and approval.
For 2018, our data shows that the average rate of first-time approvals for payrolls with headcounts greater than 200 is almost half the rate for payrolls with headcounts of 50 or less. Panama achieved the highest rate of first-time approvals at 96.5%, followed by China and Canada, while the United States had the lowest rate at just 44.9%. In addition to the US, Australia and France had a rate of first-time approvals for less than half of all payrolls.
For additional information and country rankings, download the complete PEI report at payrollefficiencyindex.com.