In an era of unrelenting technology advancements, barely a pay period goes by without a new idea or innovation entering the payroll world. Keeping up with the latest tech trends is essential to delivering the kind of best-in-class global payroll experience many organizations now expect.
Of course, the time demands of payroll delivery make it a real challenge to have your finger on the pulse of innovation at all times — especially as it's already incumbent on payroll to stay ahead of all the legislative and regulatory changes impacting an organization's global footprint.
One way of keeping on top of the latest industry developments is to attend the many excellent HR and payroll conferences held each year across the world. From Workday Rising and Ultimate Connections to SuccessConnect, HR Tech, and Unleashed, there's no shortage of events providing real insight into the future of payroll.
In this article, we'll look at some of the key payroll tech trends that dominated discussions at the most recent shows and identify the innovations poised to reshape global payroll in 2020.
---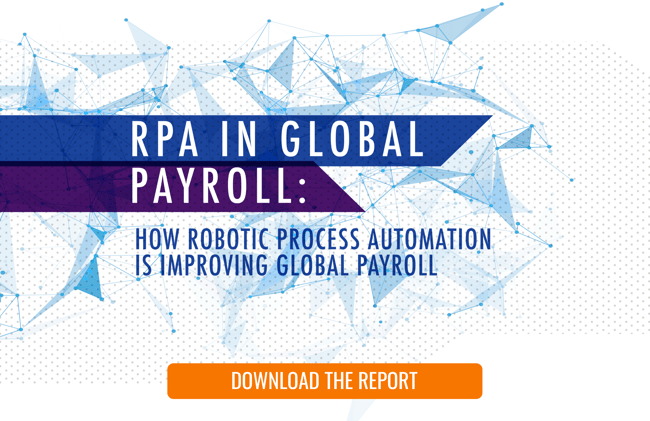 ---
Machine learning and artificial intelligence
Perhaps the most significant statement made at Workday Rising 2019 was the assertion of CEO Aneel Bhusri that machine learning "is as disruptive as the cloud."
"Machine learning helps you harness the power of data," he said in his keynote speech. "It's very clear this is the way the world is headed."
It's a view shared by many of the leading authorities in the HR and payroll space. Workday's integration of machine learning reflects the continued direction of development for HR and payroll in general — with ML and AI (artificial intelligence) capabilities increasingly looked toward, not just to bring payroll and payments together, but to aid better business decisions through predictive capabilities.
Artificial Intelligence in payroll has long been on the horizon but is now coming into focus as service providers begin to design practical applications. While robotic process automation has become an essential part of payroll processing, AI stands ready to continue the revolution.
For example, AI may soon take over the time-consuming task of tracking legislative changes altogether, with the ability to also analyse the impact of any changes on an organization's payroll. Similarly, while some advanced payroll systems already facilitate rota management, AI promises significant developments in this area too.
Powerful algorithms will enable organizations to automatically build rotas optimized for cost and performance, taking into account historical work patterns, stress profiles, availability records, and countless other data points.
Zero-touch payroll and the rise of RPA
Robotic Process Automation (RPA) isn't new to payroll. In fact, it has been enabling faster, more accurate payroll on many levels for years. And its growing use continues to transform day-to-day workflows for payroll teams around the world.
Increasingly an integral part of the payroll puzzle, it's no surprise that RPA technology took center stage at the industry's premier trade events last year.
At the CIPP Annual Conference and Exhibition, CloudPay led the discussion on automation technology, looking at the role of robotics in benchmarking and how RPA can be used to improve the link between payroll and HR teams.
At Workday Rising, meanwhile, the much-touted prospect of zero-touch payroll (underpinned by RPA technology) edged closer to becoming an everyday feature. Zero-touch payroll was welcomed warmly by payroll professionals at the event, suggesting a growing acceptance of technology that was once subject to considerable scepticism.
Indeed, far from eliminating the human aspect of payroll, there's increasing awareness that 'zero touch' capability simply frees up payroll practitioners to focus on more strategic tasks — helping them increase their personal value to the organization.
Real-time pay and blockchain
The discussion on the future of real-time pay took place at a number of shows in 2019. However, it is the increasing role that blockchain technology will play in remuneration moving forward that grabbed the limelight.
In the age of the gig economy, on-demand payroll capability can be a key differentiator for employers, allowing workers to request immediate payment for hours worked and approved. As leading platforms develop real-time pay capabilities, it seems clear that the next generation of payroll will include blockchain in some form.
Best known for its role in cryptocurrency, blockchain is based on a distributed ledger concept, which would enable payments to be handled across a peer-to-peer network between employers, employees, and tax authorities, while reducing the role of the banks.
This has the potential to increase the speed and efficiency of payroll payments, as banks wouldn't be required to verify financial exchanges. The blockchain itself would validate each transaction.
There are positive implications here, particularly for global businesses making payroll payments to international employees. These companies could not only simplify the process, but bypass considerable bank fees and currency exchange losses.
Getting ready for what's ahead
It's an exciting period for payroll, with rapid technological advancements increasing payroll's potential to deliver superior service to employees and, at the same time, provide strategic value to the business.
Finding time for this year's key HR and payroll conferences will not only help ensure you stay in touch with new developments, it will give you the inspiration to move things forward when you return to the office — which may pay dividends in the longer term.