Global payroll and HR leaders today understand the importance and impact of accurate, consistent, and secure data for their teams. The benefits of better data quality and management are even more significant for global organizations who conduct business and manage employees around the world. Thankfully, the latest payroll technology is enabling more secure and efficient data management than ever before.
Rather than managing versions of the same data in different systems, more and more organizations are integrating their core business systems to enable real-time information sharing across the enterprise. This integration minimizes the chance of error and streamlines workflows. Additionally, modern systems can leverage single-source data and record-based data to further boost accuracy and ensure all functions are using the most current and complete information.
These new methods of effective data management add value not only for the HR and payroll teams that rely on accurate data, but also for the employees who have direct access to their employment records via employee self-service (ESS). By adopting single-source, data-driven solutions, organizations can effectively support payroll and HR teams while also empowering every employee with data that is current, correct, and complete.
---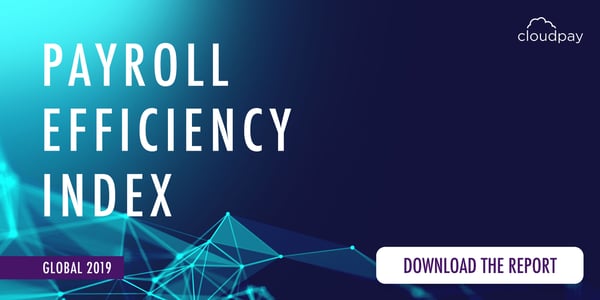 ---
Support Payroll and Human Resources with Accurate Data
For payroll and HR professionals to be competent in their jobs, they must have access to reliable information. However, while accuracy is essential to processing payroll, it remains an ongoing challenge for global teams. In fact, Deloitte's 2018 Payroll Operations Survey reported that the top three payroll concerns are compliance controls, the integration of process and technology, and accuracy.
"Having multiple versions of the truth can lead to confusion, paralysis, and bad decision-making," explained a recent article in Forbes. "Inconsistent, contradictory data erodes trust in the numbers and impedes the ability of an organization to understand its current performance or forecast into the future with confidence."
In contrast, data that exists as a single source of truth ensures that all business units are using the most up-to-date information at all times. With this capability, it's possible to:
Process necessary HR and payroll workflows more efficiently because manual uploads aren't required
Reduce response time for employee questions or other issues created by delayed or erroneous data
Provide the visibility organizational leaders need to manage and oversee regulatory compliance efforts effectively
Single-source, data-driven solutions make manual processes and uploads a thing of the past. Instead, HR and payroll teams are supported by a data management and transfer process that is accurate, timely, and ready for them to use in their workflow.
Empower Employees with a Positive ESS Experience
Having all employment-related information accessible via a single database not only enables HR and payroll teams to use the most accurate data — it makes it possible to empower employees with the ability to access and update their personal information, including contact information, tax withholding, emergency contacts, and much more. Of all the benefits gained by organizations using single-source data, this is one of the most significant.
The availability of ESS supports greater employee involvement in the workplace, including when it comes to culture participation and team decision-making. And with the growing concern around data protection, employees feel a greater sense of security with ESS platforms that allow them to update pertinent personal information and employment records. The Sierra-Cedar 2018–2019 HR Systems Survey, found that 78 percent of employer respondents use ESS, with projections that number will increase to 87 percent in the coming year.
With accurate, real-time data fueling payroll and HR processes, it's possible for employees to:
Monitor and update their data directly via ESS to reflect accurate information
Receive pay based on recent changes and updates to their compensation
Experience faster responses and resolutions to issues related to their pay or personal data
This ability to access necessary information quickly and efficiently, as well as receive timely responses from global payroll and HR teams, is an effective way to empower and engage employees with integrated services.
Data powered by a single source of truth supports the teams who need accurate and updated data to perform their jobs, and empowers frontline employees who have come to expect 24/7 access to their personal and professional information. Correct, timely data delivers better insights and enables useful process improvements, not just in global payroll, but across the entire organization. By creating a single source of information on which company executives, teams, and employees can all rely, global organizations can adapt and grow in step with current, as well as future, workforce demands.