The idea that happy employees perform better at work and are more likely to be satisfied with their job is nothing new. Thought leader across many fields, from business to government to social sciences and beyond, have analyzed and studied the correlation and its economic impact for years.
The first broad, formal consideration of happiness as a key indicator of economic health came in July 2011, when the United Nations General Assembly adopted resolution 65/309 Happiness: Towards a Holistic Definition of Development. Member nations were invited to measure the happiness of their people and use their findings to guide public policy. A year later, the data was presented as the first World Happiness Report, and the UN Sustainable Development Solutions Network has issued the report on an annual basis ever since (except in 2014).
Broadly considered an important examination of the connection between happiness and economic development, the 2019 World Happiness Report evaluates 156 countries according to how happy their citizens perceive themselves to be. This latest report was published just weeks before the new Payroll Efficiency Index from CloudPay, prompting us to take a look at happiness levels and payroll efficiency in the top-ranking countries.
From a Payroll Perspective
While there are numerous individual factors for companies to consider when it comes to the success of their payroll, it can be worthwhile to take a step back and evaluate the general condition of a country's workforce from a holistic perspective. Examining the happiness, general economic state, and payroll efficiency of countries can reveal important considerations for companies looking to improve their payroll processes.
According to the latest UN report, the world's happiest countries in 2019 are, in order, Finland, Denmark, Norway, Iceland, and the Netherlands. Here, we consider payroll, tax, and employment in the top three countries.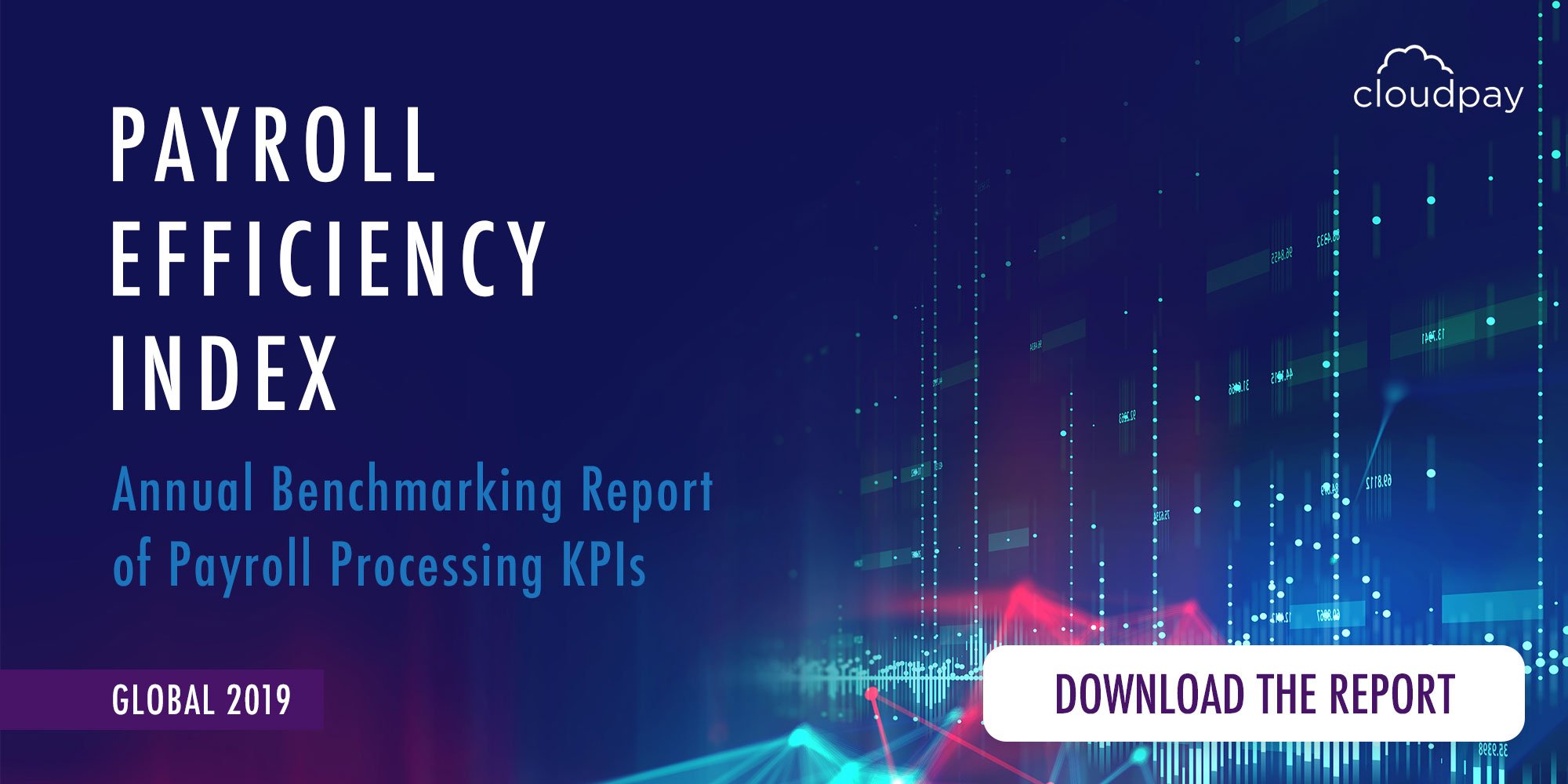 Finland
The Land of the Thousand Lakes ranks first for happiness for the second year in a row, a notable accomplishment among a consistently strong leader field. While it can be tempting to group the Nordic nations together for the purposes of assessing culture, Finland has several unique distinctions that set it apart from its neighbors, which may contribute to its consistently high happiness factor.
Like neighboring countries, Finland places a high value on individual freedoms and citizens' rights. Although the percentage of Finns living in a traditional family setting is decreasing, family remains a key structure within Finnish society, and many laws and customs support residents' ability to balance family with work. Finland is on par with its neighbors in terms of generous parental leave laws, ample health services, and reliable social programs — all of which have been proven to boost satisfaction among workers regardless of location or industry.
Where the country stands slightly apart, however, is in its people's commitment to work itself. With a decreasing unemployment rate of 6.7% and more than a third of workers consistently putting in overtime hours, Finland likes to work. Although near the EU average with 78% of men working, the fact that 73% of Finnish women work is well above the EU average of 57%. More than 86% of workers are full-time employees, although that figure is beginning to decline as more workers embrace contingent and part-time work, which was traditionally unpopular.
Finns appreciate and expect timely, organized services, whether it's a city bus departing precisely on schedule or their payslips arriving when and as promised. Income tax is based on a straightforward, progressive scale, with social contributions calculated as a set percentage for all workers. A flat tax rate of 20% applies to corporations. The system seems set up for accuracy and efficiency, and Finland's performance in the Payroll Efficiency Index supports that.
Achieving 100% accuracy and timeliness for all payrolls in 2018, Finland also averaged 88% for first-time approvals and less than 9% supplemental impact. Taken together, these metrics indicate a high degree of efficiency in Finland's payroll — and support workers' desire for reliable, consistent services from their employer, their local agencies, and their country. Who wouldn't be happy with that?

Denmark
Denmark faithfully ascribes to the Nordic style of providing residents with ample education and work opportunities, balanced deliberately with generous leave and holiday allowances, and reliable social services. According to the data, the formula works, with Denmark ranking in the top three of every issue of the World Happiness Report to date and taking the top spot three times.
While workers in Finland seem fine with putting in extra office time, the Danes boast the world's shortest average workweek at just 37 hours (35 hours on average for female employees), with overtime typically compensated by time off rather than additional pay. Yet, the country's diligent workforce consistently ranks high in productivity, supporting a strong national GDP. Denmark maintains a steady unemployment rate around 5%, with the majority of workers in full-time employment and nearly 100% paid on a monthly schedule.
Denmark's tax structure is more complicated than Finland's, and workers on average pay the highest rate of tax in Europe. However, they also overwhelmingly say that the social services paid for by those taxes are well worth the rates. Corporations are taxed at a rate of 22%.
It is interesting to note that while Denmark has no official minimum wage and a high cost of living, the country is characterized by equitable income distribution, with little difference, on average, between rich and poor living standards. In fact, equality is a hallmark of Danish life in many aspects, and is reflected in the workplace by a flat hierarchy and shared standards around input, work flexibility, and time off, regardless of an employee's title or tenure.
Danes report experiencing a high level of autonomy and empowerment at work, which translates not only into a satisfied workforce but also committed, hardworking employees. It's an equitable agreement, and employers are expected to uphold their part — beginning with reliable payroll. According to the Payroll Efficiency Index data, Denmark has the lowest supplemental impact rate of the top-three happiest countries. Only 5.5% of all payroll runs in 2018 in Denmark were supplemental runs, a figure that reflects the nation's diligent approach to work.

Norway
Although Norway placed third in this issue of the World Happiness Report, like Denmark, this Nordic nation has been at or near the top of every list to date. Although the Land of the Midnight Sun has plenty in common with its fellow happiness leaders, Norway stands out in many ways from its Northern European neighbors.
While Norway is not part of the European Union, it is a member of the European Economic Area, participating in the single-market and contributing significantly to the EU budget. Due to an abundance of valuable natural resources and smart management of them within the public sector, Norway is a rich country. It is one of the world's leading petroleum exporters, and the world's leading producer and second-largest exporter of seafood, after China. Norway also has a thriving gas production industry, and is notable for running almost all of its domestic electricity production on hydropower.
Norway has the lowest rate of unemployment among the top three happiest countries, at just 3.9%. Fully 30% of workers in Norway are employed in the public sector, the most of any country and a distinction that carries a sense of pride among Norwegians. Although public employment in some countries equates to lower rates of pay, Norway defies that trend. The high cost of living in the country is offset in part by higher wages overall and generous, reliable social benefits. A longtime leader in terms of equitable employment, pay, and leave laws, Norway provides workers with extremely flexible and generous parental leave allowance, and has been among the first countries to adopt various legislation and quotas encouraging equity among all of its residents. Part-time employment is common and often agreed as a percentage, such as "50%" to mean working 2.5 days or 3.5 hours a day.
Similar to the Danes, Norwegians prioritize family and private life, and stick to a set work schedule. Although many employers allow for flexible hours to suit employees' needs, it's common for the work day to begin promptly at 8 and end precisely at 4. During work hours, they work. Outside of those hours, they live. And they rely on employers delivering consistent payroll to support that. In the Payroll Efficiency Index report, Norway had the lowest percentage of data input issues of all countries analyzed, just 26.7%. This figure is well below the global average of 72% and a significant indicator of an efficient transfer process for payroll data.

For more information about payroll in the world's happiest countries, check out our comprehensive list of Country Payroll Guides. To learn more about the new Payroll Efficiency Index and download your free copy of the report, visit payrollefficiencyindex.com.