As part of our continuing effort to help payroll professionals everywhere address the complexity of global payroll, we're asking our internal experts about the unique challenges and requirements of processing payroll in some key countries. For this spotlight, we turn our attention to the Philippines, the welcoming Southeast Asian nation known for its breathtaking beaches and diverse culture. Here, our local payroll expert offers seven insights for multinational employers looking to learn more about operating payroll in the Philippines.
What do global organizations need to know before setting up their payroll in the Philippines?
Employers should be aware of the unique, mandatory requirements involved in paying employees in the Philippines. The three main statutory obligations that apply to both employers and employees are monthly contributions to the Social Security System (SSS), the Philippine Health Insurance Corporation (PhilHealth), and the Home Development Mutual Fund (HDMF or Pag-IBIG). Employee contributions must be withheld from their salaries each month and, along with the employer's share of contributions, must be submitted to the relevant agencies by the tenth or fifteenth day of the following month.
It's also important for employers to understand the tax reporting requirements—or have an experienced payroll provider in place, as that provider will be able to complete and submit the required forms on behalf of the employer. A number of forms must be submitted to the SSS, PhilHealth, and Pag-IBIG, and to the Philippines Bureau of Internal Revenue (BIR), both on a monthly and annual basis. At least at first, the requirements around withholding, reporting, and making contributions can be quite complex, which companies need to know going in.
Can you describe a unique challenge or requirement for global payroll in the Philippines?
The payroll function plays quite an active role in the Philippine system of delivering compensation and benefits to workers. Personal income tax and social contributions are collected through payroll, with the employer acting as the withholding agent. In addition to covering basic worker needs like sick pay, pensions, and parental leave, these mandatory contributions also provide for less-standard benefits such as universal healthcare and even affordable housing schemes through the Pag-IBIG.
Workers in the Philippines are also entitled to 13th-month pay, equivalent to one-twelfth of their annual salary, and a night-shift differential amounting to an additional 10% of the regular wage for every hour of work performed between 10pm and 6am. Additionally, employers can elect to offer their employees a range of non-mandated benefits, from performance bonuses and education assistance to enhanced health insurance and meal vouchers. The payroll team will be involved in calculating amounts for each benefit and reporting totals annually.
How can global enterprises benefit from doing payroll in the Philippines?
Not only is the Philippines very welcoming of international business, but both its economy and workforce are strong, adaptable, and growing. The country weathered the global financial crisis well and has since been ranked highly for its corporate governance and economic stability, making it a particularly attractive location for foreign investment. The cost of doing business in the Philippines is beneficial for many multinationals, bolstered by the efficiency of the Philippine workforce. In payroll specifically, the Philippines performs very well overall in terms of processing performance and outputs. The 2019 Payroll Efficiency Index data showed 100% accuracy and timeliness for all CloudPay payrolls in the Philippines, and the country had one of the lowest numbers of issues per 1,000 payslips.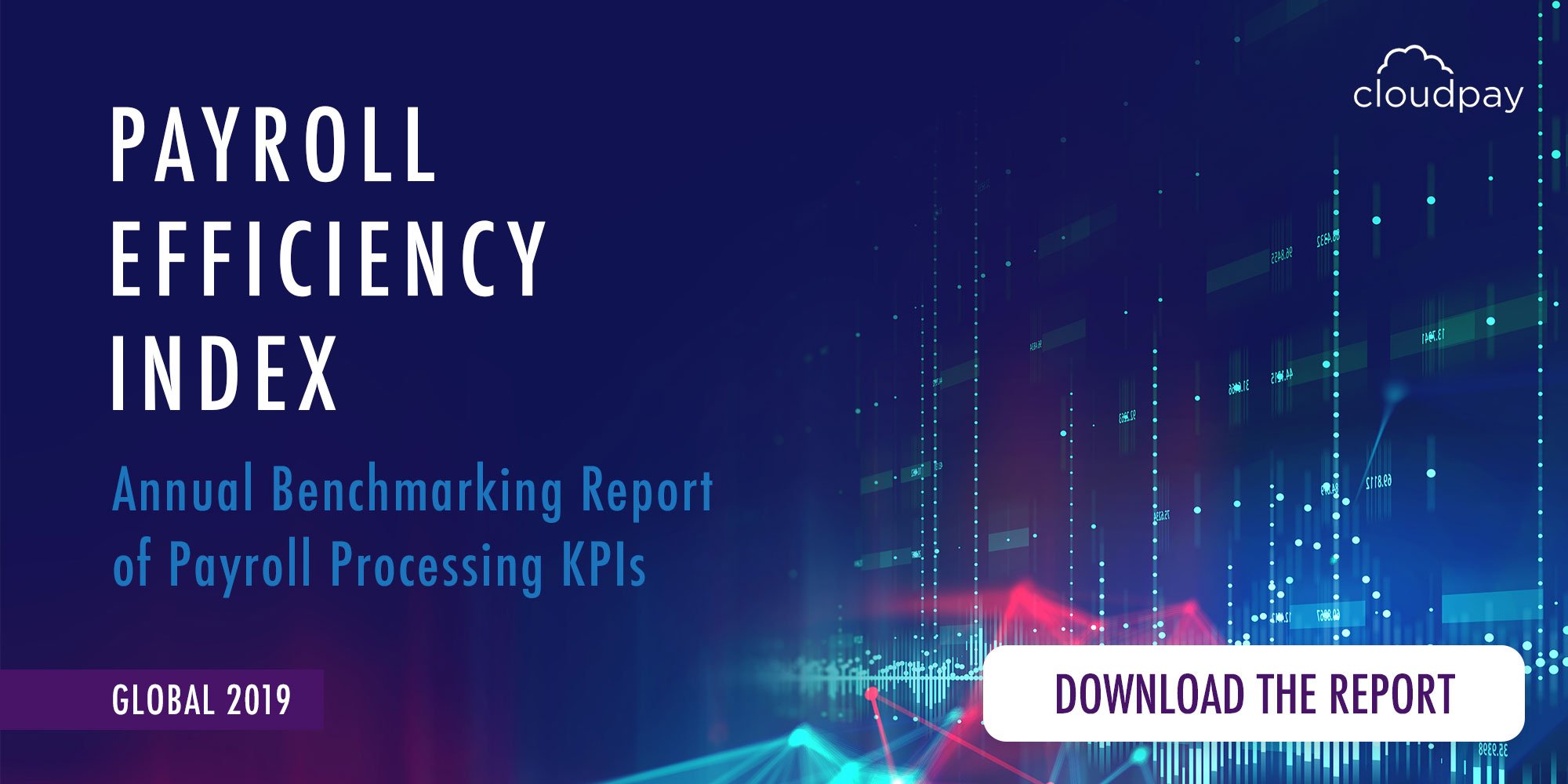 Why is the Philippines a good location for multinational organizations?
The Philippines enjoys a stunning setting in Southeast Asia that supports both a positive lifestyle for residents and a strategic position for global business. Filipinos are confident consumers, and the country offers companies access to a regional market of more than 500 million people. Although agriculture continues to be a key commercial industry, recent decades have brought a significant rise in other sectors, including manufacturing, energy, and information technology.
A unique benefit of a Philippine workforce for multinationals is its exceptionally high rate of English proficiency. The country's colonial past brought a level of language neutrality that makes communication both in business and personal situations relatively easy, with lingering influences of American, British, and Spanish cultures that Westerners may find helpful. On the whole, Filipinos are highly skilled and capable workers, benefitting from a strong education system and cultural support both for learning and hard work.
How have the recent changes in compliance regulations affected payroll operations in the Philippines?
The Philippines' approach to data privacy and protection has been a progressive one in recent years, with the implementation of its Data Privacy Act of 2012 (DPA) setting strict standards around personal data privacy, use, and protection by companies both in and outside of the Philippines. Similar in many ways to the protections afforded EU citizens under GDPR, the DPA protects "the fundamental human right to privacy of communication while ensuring the free flow of information to promote innovation and growth." In conjunction with passing the DPA, the government established the National Privacy Commission (NPC) to enforce it, part of which involved requiring all companies to register as a personal data processor by September 2017.
As a result, payroll providers in the Philippines have worked to comply with strict national standards and global requirements for years. Payroll processing and data management systems were upgraded to meet legal requirements, and compliance with data protection regulations is top of mind for payroll teams working within the Philippines.
What is the typical payroll window in the Philippines, and what can organizations do to shorten that cycle?
Payroll in the Philippines is complex and typically takes around seven working days to complete an average run, though various factors can impact the processing time. Employers should be aware of the strict compliance requirements around providing payroll data as scheduled. Taking steps to improve accuracy throughout the payroll process, from input through payment, will help companies not only meet their workers' expectations but also keep them compliant with government regulations.
The process of setting up a business in the Philippines is extremely complex, involving 16 different procedures and taking an average of 36 days to complete. What can global payroll teams do to help that process?
While the steps involved in setting up a business in the Philippines are complex, the benefits of doing business here are varied and significant. Companies getting started in the Philippines can benefit from creating a designated compliance team to manage regulatory requirements and ensure all necessary information is delivered as needed. The compliance team and related functions, such as global payroll, can also coordinate directly with government agencies to make sure needs are fully understood and met as expected. Taking the time to invest in planning and understanding everything required will pay off as the company goes through the process of setting up in the Philippines.