It's Global Payroll Week and an opportunity to spotlight the important work international payroll professionals do every day to make sure the world's workers are paid accurately and on time. More companies than ever are operating globally, with many more expanding into new countries every day, which means the need for smart, reliable sources of expertise and solutions is only growing.
Initiated by the Global Payroll Management Institute for the first time in 2018, Global Payroll Week is focused on expanding education and understanding around the complexity of multi-country payroll. As more companies are discovering, a number of unique challenges, from evolving regulatory requirements to distinctive cultural expectations, make global payroll a vastly different undertaking than domestic payroll.
The call to expand understanding around the complex needs and opportunities of global payroll resonates with CloudPay's approach to training and education for our customers, colleagues, internal specialists, and related functions like human resources and finance. Read on to learn more about the part we're playing in helping multinational companies to better manage the payroll needs of the world's evolving workforce.
Innovative Tools
The only sure thing in global payroll is that today's requirements will change tomorrow. Continuing education and training is essential to helping payroll teams keep up to date on what's needed as well as what's possible. That's why we recently made the CloudPay Academy learning platform available to all our customers. Providing online, customizable, and user-led training programs, the Academy network includes videos, tutorials, and instructions, as well as broader payroll industry knowledge, for example, around country-specific requirements.
CloudPay also recently published the first global edition of its new Payroll Efficiency Index report, which was recently reviewed by a leading industry analyst at NelsonHall. Using extremely granular anonymized payroll data from more than 2,500 global entities, the PEI report introduces five process-focused efficiency metrics that go beyond traditional outcome reports and SLAs to offer new insights into payroll process improvement. These measurements provide the performance benchmarks payroll teams and business leaders need to fully understand what's possible on a global, regional and country level.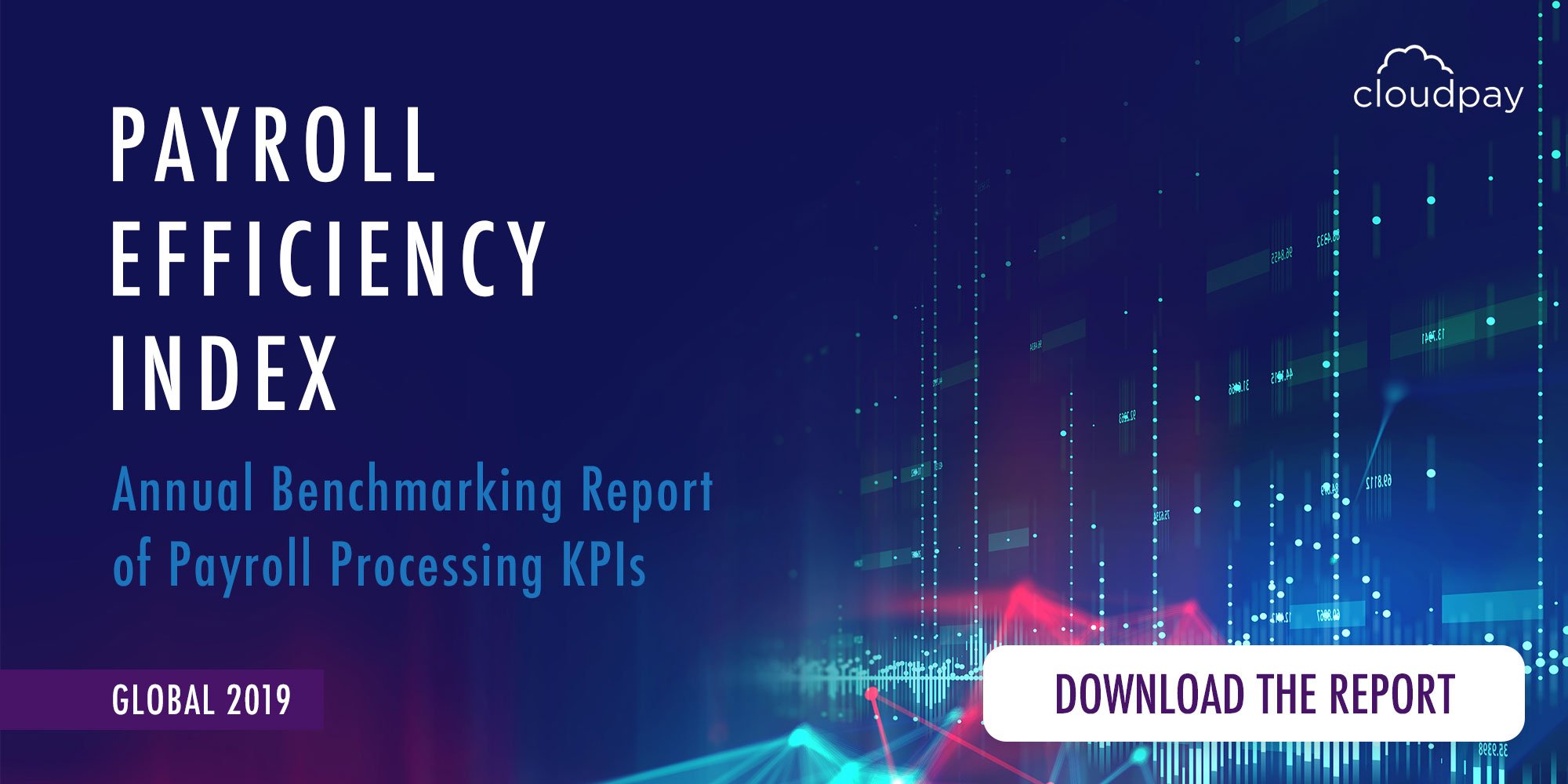 Ongoing Education
Whether you're looking for country-specific information, the latest in technology developments, or a comprehensive overview of global payroll needs, you'll find it on the CloudPay blog. With new insights and thought-leadership articles publishing every few days, the blog aims to both inform and inspire our customers and the professionals they work with every day.
Additionally, we regularly publish in-depth reports on key aspects of payroll in the form of CloudPapers, which enable readers to dive deeper into the areas that interest or impact them the most. Recent papers explore the crucial connection between global payroll and treasury services, and provide a comprehensive look at the role of robotic process automation (RPA) in payroll.
Original Resources
In 2018 CloudPay debuted the Payday podcast, the first podcast focused exclusively on the unique challenges, strategic opportunities, and technology solutions facing global payroll teams. Episodes feature industry insiders and leading analysts sharing their take on the latest payroll issues and what's being done to ensure payroll, HR, and finance leaders are equipped and ready to meet the payroll needs of today's dynamic global workforce.
Throughout Global Payroll Week and every payroll week, CloudPay is committed to empowering payroll professionals with the knowledge and resources to not only succeed in their important roles, but to showcase and explain the value of the payroll function for multinational companies. More often than not, payroll is a company's largest cost center and greatest source of workforce data and insights — the value of which cannot be overstated in today's dynamic global economy. It's worth taking a week to celebrate what payroll professionals around the world do every day in support of workers everywhere.