As part of our continuing effort to help payroll professionals everywhere address the complexity of global payroll, we're asking our internal experts about the unique challenges and requirements of processing payroll in some key countries. First up is Germany, in which the industrious citizens who support Europe's largest economy are famously equally supported by it. Here's what multinational employers should know about running payroll in Germany.
What do global enterprises need to know before setting up their payroll in Germany?
It's important to understand that doing business in particular sectors, such as banking, chemical, or automotive, involves very specific, industry-driven regulations, so the sector and type of business you're operating have a lot to do with your payroll. To a degree, your industry will also dictate the minimum standards acceptable for wages and terms of employment, as much of this is agreed through collective bargaining in Germany. Collective wage agreements can be made by trade unions and employers' associations for an entire industry or by trade unions and an individual employer. Such agreements dictate minimums for wages and allowances, as well as terms of working hours, time off, bonuses and Christmas allowances, and periods of notice required for terminations.
Employers should recognize the presence of strong Works Councils in Germany. Works councils or trade unions are common throughout Europe, and the rights of employees to join them are well protected. In Germany, a business unit (Betriebe) with five or more employees can elect a works council. The council has significant rights to information, supervision, and consultation, as well as co-determination in relation to financial, personnel, and social matters. Additionally, general or group works councils can be established, at company level or group level respectively. In stock corporations and limited liability companies with at least 500 employees, workers can also elect representatives to the employer's supervisory board.
Works councils are just one characteristic of a socially protective economy, a system considered to be one of Germany's strengths. With four mandatory social contributions paid by employees, a German payslip reflects a comprehensive social system. It also shows the different federal taxes collected by companies, some of which are legacies of the country's history.

Can you describe a unique challenge or requirement for global payroll in Germany?
Germany has a highly complex tax and social security system due to its developed welfare state. There are also complex regulations around the provision of health care and pensions, which foreign employers can find onerous and confusing.
On top of that, there are different levels of rule-making. For example, payroll is driven mainly by federal labor laws but is also affected by collective and company agreements. The 16 Länder (states) influence bank holidays and tax rates, which can lead to differences across locations within companies. At the federal level, key determinations like tax rates, taxable income, and the social contribution assessment ceiling and rates are updated once a year on January 1. Impacting that are more than 100 different collective and company agreements, which can vary by industry when it comes to minimum wage, allowances, overtime, bonuses, and commissions.
When it comes to payroll especially, Germany requires quite intensive reporting and interfacing. German companies interact with many third parties for payroll, including tax authorities and as many as 150 social security funds. Throughout the year, payroll teams are exchanging with these third parties—for example, to claim back payment from social security for a sick employee (companies pay sick employees their full salary for 42 days, after which the social security fund pays a percentage of their income). Year-end activities include annual declarations to government schemes for all social contributions, as well as for employee income and taxes paid. At the same time, payroll teams are implementing annual changes in tax and social security rates.
Some unique requirements in Germany include back calculations, benefits tax, and church tax. If an error or change is made that requires a correction, the new payslip must be issued with a specific mention of all differences—and this can be done for all payslips issued up to 24 months earlier, whereas most countries make corrections on the payslip for the current month. The benefits tax is a flat tax of 15% to 25% of the market value of non-statutory employee benefits, such as food, transport, or accident insurance. Employers have the option to pay this tax on behalf of their employees, although such benefits aren't taxable if they total less than €44 per month. Finally, employees belonging to a church are responsible for church tax, which is withheld from the employee's total monthly taxable income. The church tax varies by federal state between 8% and 9%.
How can global enterprises benefit from doing payroll in Germany?
Two excellent things about Germany are the workforce and the infrastructure. The country's education system is world-class, and 81% of the German population has been trained to university entrance level or possess a recognized vocational qualification—well above the OECD average of 67%. An investor-friendly, social-market economy promotes stable labor relations as well. Plus, there exists a high degree of electronic interfaces between payroll providers and statutory bodies or third parties. It is estimated that 80% of data exchange is done electronically, which enables companies to reach a very high level of automation within the payroll process.
Why is Germany a good location for multinational organizations?
With one of the largest economies in the world, sophisticated infrastructure, and a perfect location in the heart of Europe, Germany offers companies huge opportunities for international growth. It's easy to see why the nation presents one of the world's most attractive markets for foreign investors: Germany has a high-income population of more than 80 million people and is the largest and wealthiest economy in Europe. The country is a core member of the EU's Single Market and Customs Union, which makes it a great base for expanding into the European market. With its central position, it offers good access to both the west and east of Europe and, in particular, the developing economies of the CEE.
How have the recent changes in compliance regulations affected payroll operations in Germany?
Germany was the first Member State to issue its implementation law for GDPR with the adoption and approval of the Federal Data Protection Act (FDPA) on April 27, 2017, by the German parliament and the Bundesrat (Federal Council). As such, the nation served as a template for other Member States planning for GDPR. The law came info effect on May 25, 2018, to coincide with GDPR, and completely replaced the existing German data protection act. Since 2014, payroll data in Germany has been processed, stored, archived, and deleted in consideration of the latest data security concerns, as outlined by the Principles of data access, keeping and retention of books, recordings and documents (Grundsätze zur ordnungsmäßigen Führung und Aufbewahrung von Büchern, Aufzeichnungen und Unterlagen in elektronischer Form sowie zum Datenzugriff (GoBD)) and the Electronically supported company audit (Elektronisch unterstützte Betriebsprüfung (euBP)).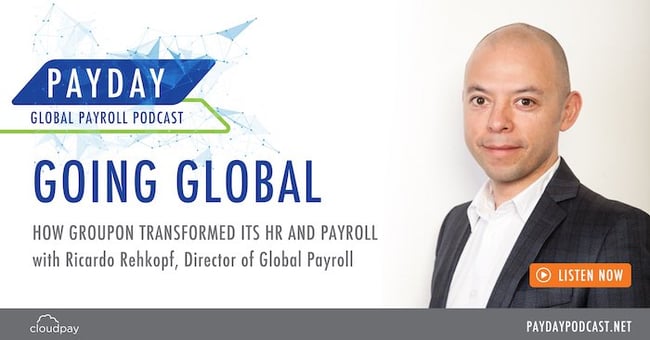 What is the typical payroll window in Germany, and what can organizations do to shorten that cycle?
The monthly payroll cycle depends on numerous factors, such as the size, industry sector, complexity, or frequency of the payroll. For a midsized company (500-2,000 employees), the typical payroll window falls between the 15th and the 25th of the month, where the first is the day by which all payroll input data must be collected and the latter is the payday. To shorten the turnover period, companies can simplify, automate, and standardize their data collection and transmission processes by using standard HR forms and templates, and by implementing integration connections between data processing systems.
Germany is know for having generous social protections made possible by complicated insurance schemes. What do companies need to know going in?
Germany has an elaborate social security system that ensures all citizens can live comfortably even if they are sick, disabled, unemployed, or retired. Expatriates can also participate in the system to a large degree.
Employed people must, as a rule, make payments to four parts of the system, for health insurance. Long-range nursing care, pensions, and unemployment. These payments typically add up to about 40% of gross income; however, the employer normally pays half the cost, meaning that employees are generally out of pocket only 20% of their income. Other pillars of the social security program are company accident insurance, paid for completely by the employer, and social indemnity, which the state handles.
Payment amounts depend on income, with those making more paying more, up to a certain limit. In 2018, the premium is about 14.6% of gross income for the national health insurance, with the exact amount depending on the insuring company. Premiums are paid on income up to €53,100 per year (€4,425 monthly). For long-range nursing care insurance, the payment is 2.55% – 2.80% of monthly income up to the same limit. The 2018 yearly income limits for pension and unemployment insurance are €78,000 in the former West Germany and €69,600 in the former East Germany. The charges are 18.6% for pension insurance and 3% for unemployment insurance.
Approximately 85% of the German population is insured for healthcare under the Gesetzliche Krankenversicherung (GKV), the German version of a national health system. The GKV covers such things as hospital stays, dental care, routine doctor visits, drugs, eyeglasses, immunizations, and x-rays. It also compensates persons for loss of income due to illness.
HEALTH - Employed persons making more than €4,950 monthly (€59,400 per year) have the option to take out private health insurance. With certain limitations, the employer will still pay close to half the premiums of the private insurance plan. Under certain circumstances, self-employed persons can also be insured under the statutory plan, or they may take out private insurance regardless of their income. Persons in both the statutory and private health plans are automatically enrolled in the long-range nursing insurance (Pflegeversicherung

) plan, which covers health costs resulting from old age or disability.

PENSION -

The German statutory old-age insurance fund ensures that employees can maintain an appropriate standard of living when they retire. Payments are generally made from age 65, and the maximum payout currently amounts to some 67% of average net income during the insured's working life. (The retirement age is to be gradually increased to 67 over the next 20 years.) It is not unusual for persons to receive retirement payments from two or more countries.

UNEMPLOYMENT - Unemployment insurance is available to people who have paid unemployment premiums for at least one year during the past five years. They must register with the Labor Office (Bundesagentur für Arbeit

) and be available for its placement service, agreeing to accept a job found for them if it is consistent with their training and experience. Plus, they must check regularly with the Labor Office. If the unemployed individual meets these requirements, they will receive a percentage of their most recent net income. The exact amount depends on the individual's circumstances.

ACCIDENT - The statutory accident insurance system offers protection and assistance in the event of mishaps at work or on the way to and from work. The system provides the same cover for children at school or on the way to or from school, as well as any illnesses incurred on the job. Payments cover the costs of treatment and recuperation, pensions in the event of invalidity, and funeral costs in the event of death. Employers are responsible for the full cost of this program.
SICKNESS - The Continued Remuneration Act (Entgeltfortzahlungsgesetz

) grants employees who have been employed for at least four weeks up to six weeks' statutory sick pay, unless the employee has materially contributed to the illness. If an employee subsequently falls ill due to the same underlying illness, the six-week period will recommence if six months have elapsed since the end of the last sick leave or if one year has elapsed since the beginning of the first sick leave. If the cause of illness is new, the six-week period automatically commences again. Following the six-week period, employees are entitled to statutory/private insurance sickness benefits.
If employees are unable to perform their contractual duties because of a physical or mental incapacity, they will be relieved from work. The employer must be informed immediately, and a medical certificate is required if there are three consecutive days of absence due to illness.
Employers with no more than 30 employees are entitled to apply to the employers' cost sharing fund, from which they can recover sick pay. This fund is contributed to by employers (Aufwendungsausgleichsgesetz).