Overview

Trust Your Payroll Processes

Greater accuracy, visibility, and efficiency with expert global implementation, payroll service, and support teams.

The challenge of managing payroll schedules, maintaining compliance, and delivering timely, accurate payments can be met only by talented payroll professionals. CloudPay has more than 20 years of experience delivering outsourced payroll services to multinational companies through the industry's most sophisticated technology — unifying software, services, and analytics in a single elegant solution.
Backed by decades of experience and industry-leading technology, CloudPay's managed services enable multinational organizations to realize greater efficiency, accuracy, and visibility in their global payroll operations. The service provided by our knowledgeable implementation, payroll, and support professionals helps minimize the complexity of global payroll in more than 130 countries worldwide.
Our payroll professionals study the complex mechanics and requirements of global payroll and obsess over improving the Payroll function at multinational organizations, so you can:
Deploy your CloudPay solution efficiently with our structured implementation methodology and expert project managers
Have 24/7 access to CloudPay's experienced in-house payroll professionals, vetted partner network, and expert support teams
Enjoy 99.9%+ performance on our service level agreements
Outsource end-to-end management and delivery of every payroll and compliance filing across your global footprint
Access our library of regulatory updates, platform tutorials, and custom webinars to advance your team's global payroll intelligence
Payroll Implementation

Proven Global Framework

Our time-tested global implementation methodology keeps your plans on track.

Consolidating a decentralized payroll landscape into a global solution is a complex initiative. Due to the number of stakeholders and systems involved, it can be easy for organizations to experience delays and rack up unnecessary costs during implementation.

CloudPay delivers process efficiencies that fast-track results. Our structured deployment model and experience navigating multiple languages and geographic requirements help organizations realize a smooth and seamless transition to CloudPay.

Beginning with a structured planning model for each customer, CloudPay modifies our approach to meet your unique needs and minimize setup and onboarding time and expense. Our team ensures that the project is phased at appropriate times of the year and with countries that will set the stage for success during the global transition. Parallel runs compare results between incumbent systems and CloudPay, so you transition according to plan.

From discovery and configuration to testing and go-live, our specialists provide expert guidance and timely updates to keep all parties focused on the end goal: an efficient, on-time implementation.
GLOBAL IMPLEMENTATION PROCESS
Facilitate a successful transition and manage implementation from initial engagement through go-live.
Provide all critical data and system requirements for payroll setup.
Experience an open and collaborative communication environment with your designated program team.
Benefit from appropriate governance and management of data through a defined process steeped in Prince2 and Six Sigma.
Managed Services

Outsourced Payroll Management

Our multilingual hubs are staffed by seasoned, vetted international payroll experts that will help you handle every pay cycle with confidence.

Our in-house operations teams also manage a vetted network of international payroll partners working within the same application, enabling a seamless global solution with managed data flows and fully auditable approval processes. This provides evidence of a solid and reliable system of controls, helping you reduce costs, mitigate risk, and remain compliant with legislative changes.
Combining global expertise with local knowledge, CloudPay rises to the challenge of meeting complex payroll requirements in the most efficient ways possible.
Partner with CloudPay Global Payroll Service Experts
Achieve consistency of service — regardless of the number of employees in a country — through CloudPay's knowledgeable payroll managers and in-country partners.
Access payroll and payments data from anywhere leveraging our cloud-based technology.
Stay current with legislative changes as they occur.
Eliminate management of disparate technology solutions, data, and multiple payroll vendors, and gain control over costs.
Reduce risk and achieve compliance with SSAE 16 / ISAE 3402, ISO27001, and other payroll and payments requirements.
Payroll Payments

Seamlessly Deliver Payments

An integrated global payments solution enables timely, compliant payments and increases efficiency.

Compensating an international employee base and submitting statutory payments is a complex challenge. Inefficiencies and compliance risks pile up as you manage multiple banking platforms for each location, high volumes of charges, and costly transaction fees.

CloudPay provides an integrated, automated solution to pay globally distributed employees and third parties in a trackable, cost-efficient way. CloudPay Payments auto-populates funding requests through CloudPay Payroll, eliminating manual file transfers to bank accounts while minimizing fees.

CloudPay Payments is a flexible solution that offers three different funding options and single currency settlement in USD, GBP, SGD, and EUR. By centralizing global payment processes and configuring CloudPay Payments to their enterprise specifications, organizations achieve stronger payment accuracy and compliance.
With CloudPay Payments, you can:
Assure data security with a system that automatically takes files from CloudPay Payroll and securely transfers them to appropriate payment vendors
Easily disburse funds based on a chosen payment schedule
Receive automatically generated reconciliation reports for payments, guaranteeing a fully compliant, documented audit process and effective reconciliation
Compliance and Security

Ensure Continuous Compliance

A secure, centralized global repository for compliance documents ensures transparency and confidence in payroll activity.

With every new border a company crosses, the challenge of maintaining payroll compliance gets more complex. Each country and municipal jurisdiction brings a variety of ever-changing payroll laws and regulations, and the consequences of noncompliance are steep. Missed deadlines, incomplete filings, and mismanaged tax requirements can lead to fines, legal repercussions, and reputational harm.

CloudPay takes the guesswork out of global payroll compliance. Our end-to-end Compliance Tracker provides multinational companies with complete transparency into all statutory guidelines and tax requirements across their global footprint, with real-time visibility into filing schedules and statuses.

Our solution comes equipped with issue tracking functionality and auditable processes for SOX compliance and internal risk management. CloudPay manages the generation and submission of statutory filings and payments, providing a secure, consolidated global library for storing and accessing all compliance-related documents. We allow you to trust your payroll management with effective communication and compliance on a global scale.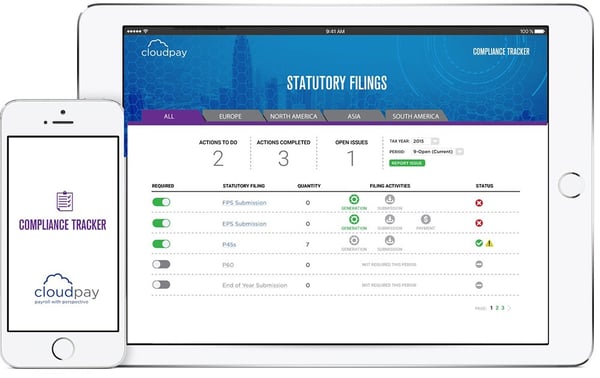 UNDERSTAND all rules and regulations affecting your global enterprise. CloudPay's in-country employees and local experts guide global companies through the legislative labyrinth of in-country compliance.
ACCESS a centralized library of local payroll information (LPI) that is updated in real-time. With country-specific payroll requirements always available, you're never reliant on outdated or partial information.
MONITOR AND TRACK the compliance statuses of every payroll in your global footprint. Quickly view schedules and filing deadlines to allocate resources as wisely as possible.
MITIGATE RISK in the compliance function with top-tier security and proactive issue resolution. CloudPay leverages over 20 years of experience in global compliance.